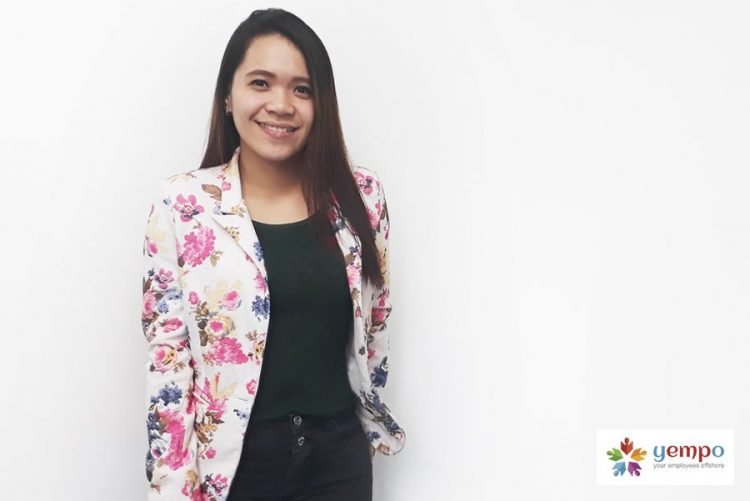 Employee Spotlight: Cat
Being an Office Administrator is a tough job. In some ways, you are expected to act as gatekeeper to everyone in the organization, keep things organized and running, and know how the company—not just the office—works inside and out.
But what is even tougher than being an Office Administrator, you might ask? Being BOTH an Office Administrator AND an Events Coordinator.
This month's employee spotlight falls on Cat, who works as an Office Administrator and Events Coordinator for Yempo.
1. What is her role at Yempo?
Cat, as an Office Administrator and Events Coordinator, is the site lead in the Ortigas Robinsons office. She helps the GM take care of day-to-day operations and is the lead of the Social Welfare Committee (SWC). Together with the back-office team, Cat leads the events, people engagement, and Yempo corporate citizenship.
2. How long has she been working for Yempo?
Cat is celebrating her first anniversary this month. She adds that it has been a year full of fun and adventure working for Yempo, and that she has learned a lot, although she still has a long way to go. Cat adds that she is thankful for the opportunity given to her and that she is happy that the people around her are supportive.
3. What can Yempo employees contact her about?
Employees in the Ortigas office can reach out to Cat for anything admin-related—pantry supplies, gate passes, timekeeping, office maintenance. And of course, they can let her know their feedback on company events and other engagement activities like birthday cards, anniversary gifts, other printed cards to celebrate milestones. Also, Cat handles some onboarding and offboarding tasks for employees in the Robinsons Ortigas branch.
4. What are the projects that she is working on in 2019?
Cat is excited that they're maintaining the monthly newsletter and focusing on getting employees' feedback and sharing these with all staff. She adds that this will surely be used to improve company events. She's also working with back office colleagues to deliver Capability Development training for the back office team. In the past year, Cat adds, they started determining strengths and using these strengths to perform better. The soft skills training in the pipeline will help the team interact more effectively with the Yempo workforce.
5. What does she love most about her job?
Cat loves being a part of SWC because they are strengthening people engagement, with a goal to make people happy and satisfied. For example after a month of hard work, people will get together, eat, hang out, and have fun for a couple of hours. And she loves celebrating people's milestones too.
6. What are her strongest skills?
Cat believes that her strengths lie with interacting with people, listening to them, and being able to empathize. Additionally, she always tries to see the positive side of things.
Cat adds: "We're going to face a lot of negativities in the world, and there's a big chance that we will be challenged and even fail, but the only way is to move forward, learn from your mistakes and see how you matured after what happened, then use that in your future decisions. Then being a deliverer and maximizer, I am the kind of person who wants to get things done with quality, while maximizing the resources that I have. And that works best when you know the strengths of the people around you. So yeah, those are probably my skills."
7. What was a challenge that she experienced at Yempo and how was it solved?
Cat says that the most challenging time for her was last year, from October to December. Why? Cat says, "It was really tough planning and preparing for major events. Last October we had Halloween, then a Financial Awareness session in November, then the year-end party in both Manila and Cebu, and lastly the charity visit in December. It was overwhelming because we have a lean back-office team especially in Manila. But we were able to do it, and we received positive feedback from the attendees. It made my heart melt. So how did we overcome it? We just worked together. We needed everyone's skills, talent, and help and I'm happy that the back-office team is always willing to lend a hand. What I learned from it is to plan earlier and delegate tasks efficiently, and that's what we're doing this year."
8. What does she like best about Yempo's culture?
Cat likes that the company is built on trust and integrity. The company trusts that the employees will follow the policies indicated in the handbook, trusts that employees are communicating well with their clients, and trusts that employees will open up if they are having any challenges at work. Cat believes that trust is important for everyone as it sets the feeling that you can breathe and do your job with your own working style.
9. Which core value (commitment, excellence, community) is the most important to her? Why?
"As the lead of SWC, I'd like to say that it's community as I really value people engagement and corporate citizenship. But I believe that commitment is as important because it drives excellence. By definition, commitment is the quality of being dedicated to a cause, activity, or purpose. If you have the dedication and passion to do something, you will make sure that your output is as excellent as you imagined it to be."
10. Where does she see her career five years from now?
"I like it that even though Yempo is a flat organization, the management values employees' growth. Michelle and I had a talk, and she asked me what I would personally like to take on this year, and I told her that I'd like to challenge myself and do something to improve employee rewards and recognition. I was overwhelmed that she asked me what I'd like to do, something that I have not experienced in my previous jobs. So to answer this question, I'm not really the person who has long-term plans, but I'm pretty sure that in five years, I am still in a career that gives me the fulfillment to follow my passion of making people happy."
11. Does she have any quotes, advice, or motto that she follows that might inspire other Yempo employees?
"For almost 5 years, I was in the IT field as a senior software engineer, handling customer support for Oracle databases. I was in that career because I'm a graduate of Bachelor of Science in Information Technology. I was okay with it, performing fine, even got a few recognition and certifications, but deep down I knew it's not what I wanted to do. So by end of 2017, I decided to leave that job and follow my passion. So I am here now, working for Yempo."
"Going back to the quote, I actually have a tattoo that says, 'just be yourself' and also a frame at home with a saying 'live the life you love.' Those two go together, because when you are yourself, and you know who you are and what makes you happy, you can live freely. You will not be afraid to live the life that you love."