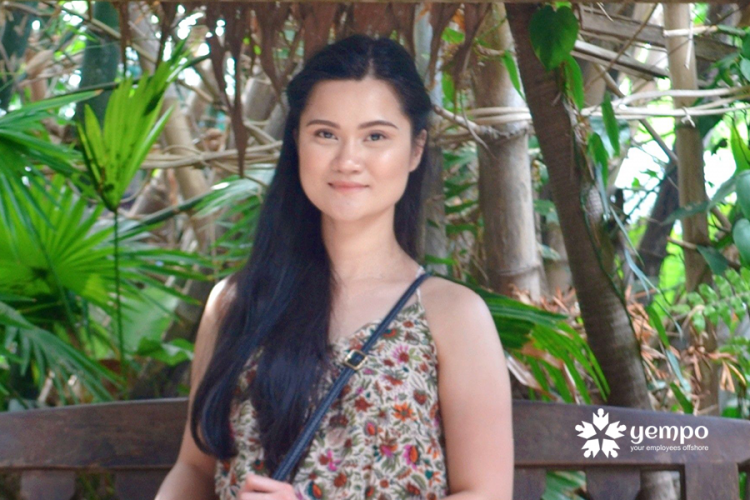 Employee Spotlight: May
Talent acquisition is more than just filling vacancies. This role is a strategic position that is tasked with finding specialists, leaders, or future executives for a company, focusing on long-term HR planning and selecting the best professionals for specific positions. May, one of Yempo's Talent Acquisition Specialists, gives us a glimpse of her work experience, values, and aspirations for the future.
Can you describe your role at Yempo?
As a Talent Acquisition Specialist, we are tasked to find the best candidate for our client's need. I am responsible with sourcing, interviewing, reference checks, and candidate management. Sometimes, we also give career advice to candidates who need it. Our client is an IT boutique recruitment firm, so it is essential for us to have a good knowledge of technologies, both in software engineering and infrastructure.
When did you start working at Yempo?
I started working at Yempo in October 2019 but was made redundant in April 2020, during the first phase of the pandemic. Then, I was rehired in July 2020.
What can Yempo employees contact you about?
Since we are working directly with a Sydney-based client, I don't think I could be of help to Yempo employees, generally. However, if they need career advice or help in understanding the recruitment process especially in IT recruitment, I might be able to share my knowledge to them.
Can you share any latest projects you're working on in 2021?
We are currently working on several roles for clients coming from various backgrounds. Some of them are fintech companies, others are in the agritech and travel technology.
What do you love most about your job?
Being in IT recruitment is very interesting for me, because it gives me the opportunity to learn new technologies even though it's just in theory. In the IT Industry, the technologies are continuously evolving, so it gives me the chance to have new learnings, new challenges, and it's never routine.
What are your strongest skills?
I can say that my strength is in the end-to-end employment process. In my current role, I'm mainly doing recruitment, but I'm fairly experienced in the overall cycle of the employment process.
What was a challenge you experienced at Yempo and how was it solved?
I think the most challenging part is the current market situation. There aren't a lot of candidates exploring for jobs currently because the economy in Australia is picking up. The demand from companies to increase their workforce is higher compared to the number of people available in the job market. The solution that we had to take is to be proactive in contacting candidates even though they don't appear to be exploring job portal sites. We can't wait for candidates to apply to our job postings. Instead, we contact people directly and talk to them about the roles that we are working on.
What do you like best about Yempo's culture?
The best part for me is the flexibility and the casual attire. I can be productive without sacrificing comfort.
Which core value (commitment, excellence, community) is the most important to you? Why?
For me, commitment is the most important because it is the act of giving your time and energy for something that you want or believe in, and I think that's the first thing that a person should have. We must be committed to things that we want to achieve and everything else will fall into place. It doesn't matter what challenges you will face, as long as you are committed, you will do whatever it takes.
Where do you see your career 5 years from now?
I want to see myself in a team lead or supervisory role.
Do you have quotes, advice, or mottos that you follow that might inspire other Yempo employees?
You should know what you like and you should know what you don't like. If what you like and don't like don't coincide with other people's likes and dislikes, then you must be willing to meet half-way or compromise. That's just the way it is, we can only suggest but we can never impose our ideals and values on other people.