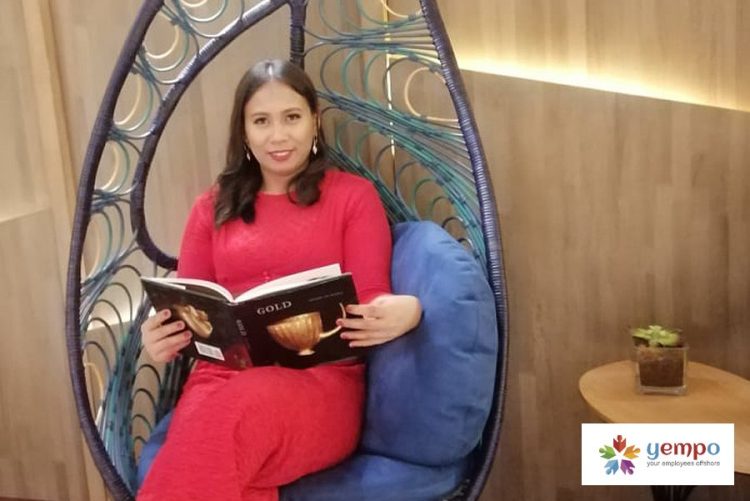 Employee Spotlight: Sol
Being an Accounts Payable Supervisor can be a mechanical job, as Sol relates. The role is tasked with ensuring timely payments of vendor invoices and expense vouchers, and maintaining accurate financial records and control reports. While the role is fraught with responsibility, it also brings rewards. Read on to get a glimpse of Sol, her work, and the bright spots of working at Yempo.
Can you describe your role at Yempo?
I am a client-facing Accounts Payable Supervisor, currently overseeing two staff members. We handle accounts payable, accounts receivable and some payroll-related entries.
How long have you been working here?
I am celebrating my second work anniversary this November 26, 2020.
What can Yempo employees contact you about?
Though I am a client-facing employee, I can extend help to anyone who has finance issues.
Can you share any projects you're working on in 2020?
This year, I worked on different client projects including one enterprise resource planning migration (integrated financial system to Microsoft Business Central), which we recently and successfully took live this October. Another one is launching a new process for our invoicing using Ariba Network Software.
What do you love most about your job?
Accounting tasks are tedious. Being able to make sound decisions is the aspect of the work that I love most. I feel satisfied when I resolve problems and issues.
What are your strongest skills?
I have a positive attitude and flexibility. While we are experiencing this pandemic, I feel these skills are being tested.
What was a challenge you experienced at Yempo and how was it solved?
One of the challenges I have experienced is this pandemic we are currently facing. Being away from the team and having the occasional unstable internet connection or IT equipment concerns are sometimes issues. To resolve these issues, we raise these with our client and ask our local IT support team for assistance. Our team's constant communication is really important in the new normal.
What do you like best about Yempo's culture?
For me, Yempo is one of the best companies I have worked with. The people around are friendly, and I feel at home.
Which core value (commitment, excellence, community) is the most important to you? Why?
For me, I value commitment the highest. If you commit, it means loving and giving your best to your work and the people around you. This will bring results that are beyond client's expectations.
Where do you see your career 5 years from now?
Five years from now I want to see myself grow professionally and having my own business and farm, which I hope to manage with my family.
Do you have quotes, advice, or mottos that you follow that might inspire other Yempo employees?
"You only live once, but if you do it right, once is enough."