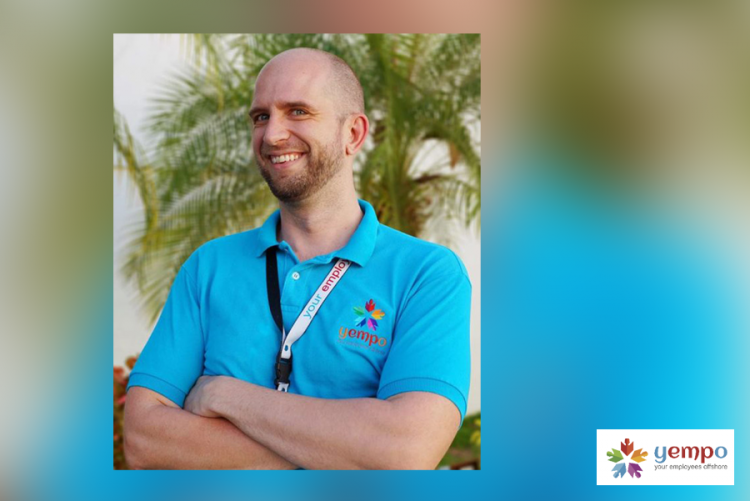 Employee Spotlight: Travis
This month's employee spotlight falls on Travis, one of the pioneers of Yempo. As Marketing Manager, he is responsible for creating strategies to improve market awareness of Yempo and its clients' brands, while overseeing content creation for marketing materials and working closely with developers to create corporate and e-commerce websites for clients. Read on as he shares his Yempo experience.
Can you describe your role at Yempo?
I am the marketing manager at Yempo. My role entails managing all marketing for Yempo and activities within the marketing department, including developing the marketing strategy in line with company objectives.
I am also the Director of Business Development of Social Media Solutions (SMS), the marketing services branch of Yempo. At SMS, I am responsible for all sales and marketing activities, client relations, and product development.
How long have you been working here?
I have been with Yempo for four years, starting in September 2015.
What can Yempo employees contact you about?
Employees can reach out to me for anything related to marketing such as promoting company events on social media, running advertising campaigns to generate leads, or developing a marketing strategy.
Can you share any projects you plan to work on in 2020?
The top three projects that come to mind are:
Developing a new marketing strategy for Yempo in Q1 of 2020
Launching a new lead generation and sales campaign for SMS
Improving customer growth processes for SMS's clients
What do you love most about your job?
I am constantly learning new things and improving my skills set. Also, I get to develop strategies for clients that have resulted in directly growing their online business.
What are your strongest skills?
My strongest skills include developing strategies, brainstorming, story-telling, and managing clients.
What was a challenge you experienced at Yempo and how was it solved?
The biggest challenge I faced at Yempo was moving from Cebu to Manila. I left my entire team behind and sat alone in the Manila office. I overcame it by ensuring constant communication with the team over Skype and making new friends in Manila.
What do you like best about the Yempo culture?
I love that Yempo trusts me and gives me the freedom and flexibility to execute my marketing strategies.
Which core value (commitment, excellence, community) is the most important to you? Why?
Commitment. You must be committed to a cause to achieve great things.
Where do you see your career 5 years from now?
I will still be in marketing, but more focused on consulting and strategy.
Do you have quotes, advice, or mottos that you follow that might inspire other Yempo employees?
"What you believe and focus on becomes your reality."