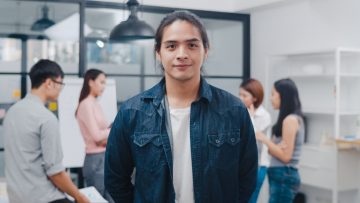 We have an exciting opportunity for an experienced L2 Systems Engineer to work night shifts at our Ortigas office. You must have a strong internet connection as we are home-based for the duration of the pandemic, with opportunities for permanently WFH.
When you join Yempo, you'll receive the following benefits: 
Highly competitive salary – paid weekly!

 

HMO enrollment on commencement, additional dependents added each year of service

 

20 vacation days per year; 7 sick days

 

Annual performance bonus and incentives

 

Annual salary reviews and increases

 

Free cooked rice, snacks, and hot drinks

 

Company polo shirts provided

 

Fantastic and cheerful open-plan work environment

 

Prestigious clients and highly professional and friendly co-workers

 
Our Client
In this position, you will be assigned to our client located in Los Angeles, California. A fast-growing Managed Services Provider focused on the SMB market where employees love technology, are self-motivated, and like to help people solve their IT challenges. 
This person will provide support to end-users and manage the maintenance and security of multiple environments. You will provide the highest levels of support to ensure the availability, reliability, integrity, and efficient operation of the systems that support the enterprise applications. 
Your Responsibilities 
Education / Development 

 

Maintain knowledge of current industry-standard operating systems and major software including SaaS applications

 

Lead the research and evaluation of new network/security technologies from vendors

 

Assist in the development of network/security policies, standards, guidelines, and procedures relevant to IT infrastructure

 

Maintains in-depth up-to-date knowledge of standards, guidelines, industry trends, and best practices for the networking discipline, including LAN, WAN, Wireless, Data Center networking, and interconnection

 

Drive improvements in network process, efficiency, and standardization

 

Contribute to the development and analysis of network designs and protocols including prototyping and assessment

 

Implementation 

 

Plan and develop specifications for complex network/security architecture for company information and network systems/applications

 

Perform and manage large network design upgrades and hardware reconfigurations

 

Participate in security architecture planning, testing, and implementation

 

Design, develop, analyze, troubleshoot, and document computer networks and infrastructure

 

Facilitate major network projects to support capacity growth, upgrades and new products/features, and integrations

 

Maintenance 

 

Support and perform audits of enterprise network infrastructure including all hardware, software, server operating systems, and communications equipment configurations

 

Proactively identify, analyze, and resolve network and system problems

 

Develop and provide reports on network performance and utilization to management

 

Deploy configuration changes to devices in core and distribution layers while communicating with management to minimize downtime

 

Provide expertise in the current network topologies, protocols, equipment, and utilize state-of-the-art network management tools for monitoring, collecting, analyzing, and reporting system performance data

 

Maintain Windows, Mac, and mixed platform infrastructure and all running services

 

Evaluate current network systems; recommend changes in maintenance and network standards; train support personnel on the conversion and implementation of new systems

 

Ensure compliance with change control processes and adherence to standards

 

Support

 

Support network server environment, ensure network backup and security systems are operative, and enforce network security policies

 

Collaborate with the network support team to identify and troubleshoot recurring platform problems

 

Serve as a high-level technical resource on large scale network/security issues

 

Perform advanced level troubleshooting to network usage and computer peripherals and provide support to System Admin and Help Desk technicians as needed

 

Participate in the diagnosis, isolation, and resolution of network problems

 

Identify and document the root cause of potential issues in the production environment and recommend potential solutions

 
Your Background 
4-6 years of experience providing high-level technical support remotely to managed services customers

 

Strong analytical skills. Must be able to think outside the box

 

Leadership skills during technical troubleshooting triage

 

Excellent English communication skills both verbal and written. Must be able to communicate at all organizational levels

 

Stellar customer services skills; has a keen eye for detail, meticulous documentation, and the ability to work independently when assigned

 

Experience in NOC

 

Understanding of support tools used by Managed Service Providers, techniques, and how technology is used to provide IT services

 

Amendable to work on night shift and on weekends as per business needs

 
Notable Technical Skills 
All Microsoft Server and Desktop operating systems

 

MacOS management and support

 

PSA & RMM Tools: ConnectWise or Autotask

 

Solid understanding of internetworking and TCP/IP troubleshooting, QoS, TLS/SSL protocols, X.509 Certs, SMTP, Netflow, etc.

 

Ability to support and troubleshoot issues with technologies, including but not limited to:

 

Network Infrastructure: data center-class firewalls (ASA, Palo Alto, Fortigate), Network shares/resources, printers, DNS, DHCP

 

System Infrastructure: File Servers, Application Server, Virtual (HyperV, VMware, Azure, OpenStack), On-Premise servers, Domain Controller, Active Directory, GPO; remote desktops, Windows server 2008, 2012, 2016; MacOS management and support

 

Mail servers: MS Exchange 2010, 2013, Office365, G-Suite; administration of user accounts and licenses

 

Backup systems: Datto, Egnyte, Veeam, Azure cloud backup solutions, StorageCraft, etc.

 

Security architecture design with knowledge of Access Control, Intrusion Detection and Prevention Systems, Remote Network Access, Anti-Virus and Anti-Spam (AV/AS), Email and Messaging Security

 

Understanding of security concepts like firewalls rules, CVE's DDOS protection

 

Knowledge of networking aspects in Cloud environments (SaaS hosted in AWS/Azure, etc.)

 

Experience with networking systems protocols, software, and technologies including routers, switches, load balancers, and WAN/LANs in a distributed environment

 

Virtualization technologies both networking and computer