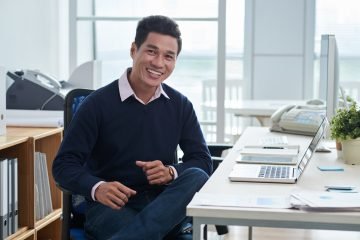 We have an exciting opportunity available for an experienced Senior L3 Server Administrator. The position requires flexibility to work on rotating schedules. Initially, it will be on a night shift then transition to the day shift after a few months.
We currently offer work-from-home (WFH) arrangements, until the quarantine is fully lifted and we are ready to move back to our office in Ortigas. You must be WFH-capable with strong internet connection and equipment.
When you join Yempo, you'll receive the following fantastic benefits:
Highly competitive salary – paid weekly!
HMO enrollment on commencement
Addditional HMO dependents added each year of service
20 vacation days per year; 7 sick days
Annual performance bonus and incentives
Annual salary reviews and increases
Free cooked rice, snacks and hot drinks
Company polo shirts provided
Fantastic bright and cheerful open-plan work environment
Prestigious clients and highly professional and friendly co-workers
Our Client
In this position, you will be assigned to our client based in the US, an IT consulting firm (Managed Service Partner) located in Manhattan focusing on NYC-based small and medium businesses.
Your Responsibilities
Windows Server Administration including AD, GPO, IIS, DHCP, DNS, etc.
Windows Server automation (PowerShell, VBScript, etc.)
Microsoft Exchange Administration 2013/2016 (Exchange Online/O365)
Network Administration (Meraki Security appliance, Switches, APs, VLANs, Subnets, ACLs, NAT, VOIP)
Implement acquired an custom software solutions
Reporting and dashboards for IT service and management apps
IT Infrastructure automation (NOC, scheduled tasks, FTP, etc.)
SQL Server and database monitoring
Install database software and deploy system updates
Ensure security through access controls, backups and firewalls
IDP (SAML/SSO provider) administration
IT Asset Management
Troubleshoot Network issues and outages
Document Processes and Workflow
Apply OS patches and upgrades on a regular basis, and upgrade administrative tools and utilities
Configure/add new services as necessary
Deploy Network Hardware and peripherals to remote office
Your Background
5 years experience in server support
Experience in Active Directory, RAS, DFS
Strong Technical and Interpersonal Communication Skills
Thorough understanding of virtualization technologies Hyper-V, some VMware
Microsoft Azure AD
Demonstrates experience in Project Management methodologies
Proficiency in diplomacy and liaison techniques to ensure effective working relationship with internal and external resources
Strong business relationship skills
Detail oriented with strong organizational and follow-through skills
Strong analytical skills and methodical approach to problem solving
Ability to prioritize and multi-task in a fast paced ever-changing environment
Ability to communicate effectively with all levels of management and business clients
Ability to work independently and effectively in a complex environment
Ability to conduct technical needs assessments and formulate succinct recommendations to management
Ideally, has experience working for a Managed Service Provider