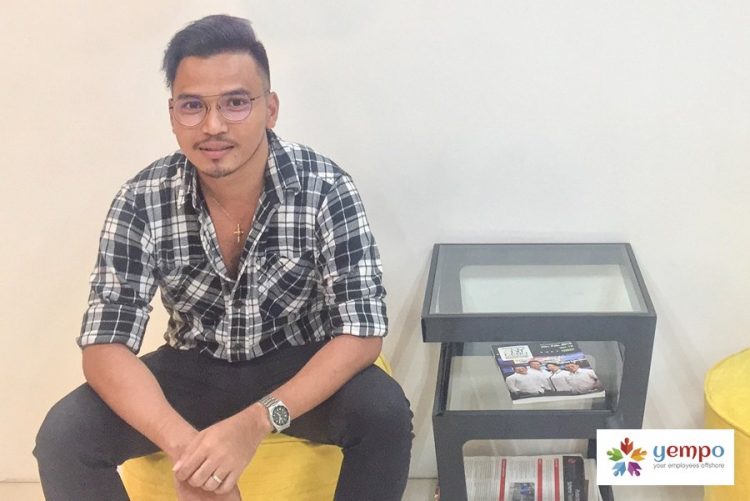 Employee Spotlight: Roegin
This month's featured employee is a shining star who advanced his career at Yempo in a short period, starting as an IT Assistant and rising to a more critical role in only two years.
At the moment, he works as a Technical & Operations Support Analyst, a key position that aims to strengthen relationships between employees and clients. His seemingly endless list of responsibilities includes overseeing all systems for current technical and operations, analysing procedures and recommending improvements, writing status reports, and other duties to keep the flow of services running smoothly. He also serves as a member of the Social Welfare Committee.
Here is Roegin to describe his various responsibilities in his own words.
Can you describe your role at Yempo?
I started with Yempo as an IT Support Assistant, but eventually my position evolved to become a Technical & Operations Support Analyst. My role in Yempo does not only cover responsibilities under IT, but also includes administrative tasks. Additionally, I also take on some tasks under the Social Welfare Committee.
How long have you been working here?
Yempo is my first job. I celebrated my 2nd anniversary with the company last June 5, 2019.
What can Yempo employees contact you about?
Employees can contact me about PC troubleshooting, software and hardware installation, internet issues, basically all IT tasks. For hardware installation, we can help them with obtaining quotes and procurement.
Aside from IT support, they can also reach out if they need gate passes and working permits. Or if they want to report something that needs to be fixed by the building maintenance team and contractors.
Can you share any projects you're working on in 2019?
Though the project has been moved to the third or fourth quarter of this year, I am looking forward to working with the contractors to help improve the audio/visual setup of our conference room in Oakridge in Mandaue City. I will also be attending the Basic Occupational Safety & Health training, from which I will share lessons with Human Resources (HR) to help improve company processes and policies.
What do you love most about your job?
I love that my work is not repetitive. I get to explore and gain new knowledge which I didn't know before. I also get to deal with people of diverse personalities. This interaction helps me improve my people skills.
What are your strongest skills?
Flexibility. Whenever I do something, I commit to it, no matter how strange the working hours are, or if I don't have any idea how to do it or if it's outside my scope of work. I will push myself to know and learn how to complete the task. As long as it will get the job done, then I'm fine with it.
What was a challenge you experienced at Yempo, and how was it solved?
Given it is my first job, I honestly had a lot of challenges. The most memorable one I can think of was the office fit-out for Oakridge and a few office transfers from Oakridge to Apple One. I can say I am lucky to have experienced those situations. I learned how to set up an empty office to achieve the functionality that we have now. It was a rewarding experience as I learned a lot from it.
All you have to do is believe in yourself while focusing on the goal. When in doubt, ask around, and the right person can help you accomplish it. After all, I am fortunate to have very supportive back-office colleagues.
What do you like best about Yempo's culture?
Respect. Yempo's culture runs without any superior attitudes. Each person respects everyone, which makes the office a comfortable working environment.
Which core value (commitment, excellence, community) is the most important to you? Why?
Commitment. For me, commitment results in success. No matter how hard the issues can be, if you have the passion and the willingness to achieve the goal, you will get there.
Where do you see your career 5 years from now?
Lots of things are running through my mind. Maybe law school or traveling. One thing I'm sure of is that whatever knowledge and skills I acquire, I want to impart them with other people. The Yempo experience has made me grow in so many ways.
Do you have quotes, advice, or mottos that you follow that might inspire other Yempo employees?
You may be struggling at times, but always remember, you will live to conquer the problems.  You will survive, and eventually, with perseverance, you will thrive. So never give up and keep going.