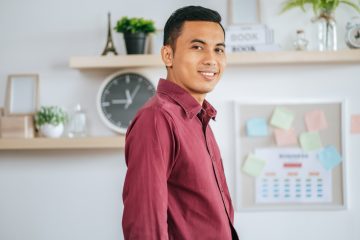 We have an exciting opportunity available for an experienced Sales and Marketing Coordinator working dayshift in our Manila office. Work from home or office based—you choose! 
When you join Yempo, you'll receive the following fantastic benefits: 
Highly competitive salary – paid weekly!

 

HMO enrollment on commencement

 

Additional HMO dependents added each year of service

 

20 vacation days per year; 7 sick days

 

Annual performance bonus and incentives

 

Annual salary reviews and increases

 

Free cooked rice, snacks and hot drinks

 

Company polo shirts provided

 

Fantastic bright and cheerful open-plan work environment 

 

Prestigious clients and highly professional and friendly co-workers

 
Our Client 
In this position, you will be assigned to our client, a Sydney-based company providing global port logistics solutions.  They develop and maintain a suite of tailored and integrated products to help streamline operations, enhance efficiency, and optimize productivity throughout the supply chain. Their customers include shipping lines, port and terminal operators, freight forwarders, customs brokers, 3PLs, trucking companies, rail operators, importers, and exporters.  
Your Responsibilities 
Working within the Customer Team as the Marketing Coordinator, you will be responsible for coordinating cross-channel initiatives. You will support the Sales and Marketing team in executing various strategies and initiatives aimed at enhancing brand awareness, engagement, and business growth. You will collaborate closely with cross-functional teams to support campaign execution, content creation, data analysis, lead generation, and overall sales and marketing efforts.  
Support the Marketing team by executing marketing campaigns and initiatives. 

 

Coordinate content for various multi-channel sales and marketing activities, including social media, blogs, email campaigns, and web based.

 

Help maintain and update the company's website content, ensuring it is accurate, engaging, and aligned with marketing objectives.

 

Support the sales and marketing team in administrative tasks or answering enquiries.

 

Allocated project-based tasks.

 
Your Background 
Sales and/or Marketing qualifications or similar.

 

2 to 3 year's proven experience working in a similar position. 

 

Exceptional verbal and written communication.

 

Strong attention to detail.

 

Proficiency in digital marketing tools and platforms – including social media management tools, email marketing software, and analytics platforms, such as, Mailchimp, WordPress, Adobe Creative Suite, Canva, and Google AdWords and Analytics.

 

Ability to self-motivate, plan, organize, and prioritize work based on outcomes required.

 

Outstanding time management skills and the ability to juggle competing tasks and projects while working towards strict deadlines.

 

Ability to work autonomously as well work effectively in a team environment and contribute to collaborative projects.

 
Nice to have 
E

xperience using tools such as Microsoft Office, Outlook, Teams. SharePoint.

 

Adobe Creative Suite, Google AdWords and analytics.

 

Sales administration skills or experience working with sales.

 
Disclaimer for Salary Ranges – Yempo provides an indicative range of salary that we deem relevant for the advertised role. This may be adjusted for the skills and experience of the selected candidate. Final job offer will be within the advertised range or higher.