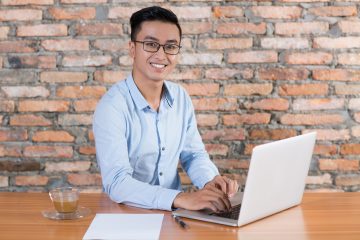 We have an exciting opportunity for two (2) experienced Application Developers with strong expertise in the Python and Django web framework, working the night shift.
We currently offer work-from-home (WFH) arrangements, until the quarantine is fully lifted and we are ready to move back to our office in Ortigas Center, Pasig City. You must be WFH-capable with a strong internet connection. We will provide the work equipment upon commencement.
When you join Yempo, you'll receive the following benefits:
Highly competitive salary – paid weekly!
HMO enrollment on commencement
HMO dependent added for each year of service
20 vacation days and 7 sick days per year
Annual performance bonus and incentives
Annual salary reviews and increases
Free cooked rice, snacks, and hot drinks
Company polo shirts
Bright and cheerful, open-plan work environment
Working with prestigious clients, and highly professional and friendly co-workers
Our Client
Our client is a leading innovator and trusted marketplace for digital Gift Cards. They released Australia's first eGift Card App in December 2015 and were first to market with IOS and Android. The company currently comprises a team of over 50 professionals and that group is still growing not only in Australia, but also in the Philippines, UK and US. Their client portfolio include major buy now pay later operators like Zip and Afterpay as well as corporates like QBE, HSBC, Coca-Cola Amatil, and the like. What differentiates this client is their care for their people – they are truly one team no matter what continent that team may be. Their values are Give Openness, Give Greatness, Give Magic and Give a Damn and they are taking their growth plans to the next level by having their people at the centre of all they do.
Your Responsibilities
In this role, you are expected to perform:
Application Development
Work within an Agile / Scrum team to deliver team goals
Work with other talented engineers to design and develop a product of high quality for our users
Ensure your delivery meets acceptance criteria and your code is quality, clean and testable
Support your peers to do their best by providing input and performing code reviews
Minimize solution complexity
Work on ad hoc project-related tasks as required
Application Support
Acknowledge, investigate, and resolve automated alerts relating to our applications and infrastructure
Acknowledge, investigate, and resolve questions and requests from internal staff, particularly customer-care, relating to our applications and transactions
Triage requests and alerts to assess the severity and the expertise required and resolve them yourself where you can, or escalate internally for assistance where necessary
Manage request queues and ensure application support tickets are resolved within service level agreements (SLAs)
Participate in post-incident reviews to help us continually improve our systems and processes
Manage and execute application deployments/releases
Identify and implement improvements to our products and processes, including resolving repetitive issues, improving our monitoring and alerting processes and our team collaboration and understanding
Your Background
To qualify for this role, you must have:
A Computer Science or Software Engineering degree
Extensive experience in application development, ideally coupled with support responsibilities
Expertise in Python and strong knowledge of the Django web framework
A strong understanding of algorithm complexity, data structures, concurrency & systems performance
Demonstrated professional experience with Python back-end development and the ability to deliver high-quality, battle-tested code
Advanced knowledge of object-oriented programming principles, design patterns, and refactoring techniques
The ability to write clean, testable code and have previous experience with TDD
Professional development experience integrating back-end applications with RESTful web services and MySQL or PostgreSQL databases
Understanding and exposure to AWS technologies and architecture models, the Well Architected Framework would be a bonus
Worked with authentication schemes before (e.g. OAuth2, JWT)
Experience with infrastructure, APM, and log file monitoring / alerting tools (e.g. New Relic, Data Dog, Dynatrace, Splunk, Sumo, etc.)
Familiarity with CI/CD best practices and deployment tools such as Jenkins
Desired Skills and Experience
JavaScript, React or ReasonML
High-traffic, user-facing complex systems
Agile methodologies and scrum framework
Database optimization