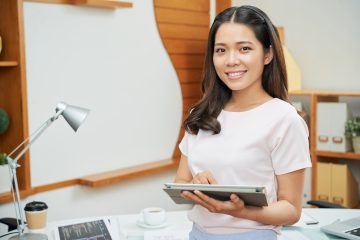 We have an exciting opportunity available for an experienced IT Operations Manager proficient in Applications Development, working on day shift. In the duration of the Covid-19 pandemic, we are offering work from home arrangement until we are ready to move to back to our office in Ortigas Center, Pasig City.  You must be WFH capable with strong internet connection and equipment.
When you join Yempo, you'll receive the following benefits:
Highly competitive salary – paid weekly!
HMO enrollment on commencement
Additional HMO dependents added each year of service
20 vacation days per year, 7 sick days
Annual performance bonus and incentives
Free cooked rice, snacks and hot drinks
Company polo shirts provided
Fantastic and cheerful open-plan work environment
Prestigious clients and highly professional and friendly co-workers
Our Client
Our client is a leading innovator and trusted marketplace for digital Gift Cards. They released Australia's first eGift Card App in December 2015 and were first to market with IOS and Android. The company currently comprises a team of over 50 professionals and that group is still growing not only in Australia, but also in the Philippines, UK and US. Their client portfolio include major buy now pay later operators like Zip and Afterpay as well as corporates like QBE, HSBC, Coca-Cola Amatil, and the like. What differentiates this client is their care for their people – they are truly one team no matter what continent that team may be. Their values are Give Openness, Give Greatness, Give Magic and Give a Damn and they are taking their growth plans to the next level by having their people at the centre of all they do
Your Qualifications
Prior experience as a Head of IT Operations (or equivalent)
Experience with an organisation that develops their own IT applications and supports these applications
Experience creating run books / standard operating procedures for trouble-shooting and incident response
Experience monitoring and reporting KPIs and Service Levels as they relate to IT Applications (e.g. performance, availability)
Experience managing and mentoring staff who are supporting IT applications
Experience defining procedures for and operating with release management, change management and incident management
ITIL or similar qualifications / certifications
Experience with monitoring and alerting systems such as DataDog and VictorOps
Your Responsibilities
Lead a support team distributed across different locations in a 24×7 operation.
Hire, retain and develop operations staff.
Be an active part of the support roster.
Manage the support roster to ensure the client has sufficient coverage to meet its SLAs.
Evolve and mature the support operating model and processes, ensuring that the client continues to meet its customer commitments and SLAs, particularly as it expands through new regions and grows its existing customer-base.
Develop processes and tools to ensure incidents and support requests are resolved efficiently and effectively. This would include playbooks, monitoring, problem management and staff training and development.
Provide input to deployment processes to ensure that deployments go smoothly, and high-quality code is moved into production.
Be responsible for Incident Management processes, both during an incident (Incident Manager) and afterwards to ensure that we continually improve our ability to respond and reduce the likelihood of an issue recurring.
Be the Product Owner for the Problem Backlog – ensuring there is a problem register, problems are converted to Jira's and champion the prioritisation of items which will make a difference to our customers.
Produce service level reporting for internal and external stakeholders.
Produce Incident Reports and Post Incident Review Reports.
Analyse support requests to identify common themes and actions to reduce them.
Ensure our monitoring and alerting is appropriate to support the Operations function.
You are able to work across multiple markets to support the growth of the business across new markets.
You develop clear coaching, development and succession plans that enable personal and professional success, growing capability whilst also working towards aspirational stretch targets. We are ready for the ongoing growth – our people grow as we do.
You can embed an agile way of working that will allow for a 'growth mindset'.
You actively promote and support a safe, healthy, and secure workplace for yourself, your co- workers, team and any other person at the workplace. You comply with all work health and safety laws and regulations and the Company's work health and safety practices and procedures.
Your Background
Extensive experience in being part of an operations function, including front-line through to leadership roles
Demonstrated experience as part of a 24×7 team
Experience with Incident Management, including a strong appreciation of what makes it effective
Experience evolving and maturing operations and support processes
Excellent verbal and written communication skills
Exceptional leadership skills, with proven experience and team culture success.
You are able to attract, lead, motivate and retain high quality teams.
You have the ability to manage at an operational level addressing the day to day pressures, challenges whilst keeping the Company Strategic Plan front of mind and in train. No issue is too big or small when protecting our brand and living our values.
You are an experienced Operations Manager who has evolved operations processes in other organisations of a similar scale and nature to the client.
You are an open and honest communicator.
You will instill a strong sense of 'team' and will have the ability to unite everyone 'globally' around the outcomes required whilst encouraging an inclusive and fun work environment.
You have a sense of urgency and genuinely see the client maintaining its market leadership and position of first mover advantage, whilst recognising the importance of our support and operations function in achieving this.
You love what you do second only to putting the customer at the front of every decision.
You thrive in growth businesses – you understand the growth agenda and are able to move at pace to achieve ambitious growth plans and objectives.
You are comfortable working in an environment where systems and processes have not been fully developed yet and enjoy putting these in place.
You want to help build a global business knowing this will involve, at times, long hours, much travel, lots of discussions and debates, being challenged and challenging back.
You get things done – you understand the need to achieve both company and personal goals even when they may not align from time to time.
You will be energetic, enthusiastic yet considered and calm under pressure.
You are able to speak up and be heard, you are driven, and ready to really make you mark on a global scale, thriving on success.