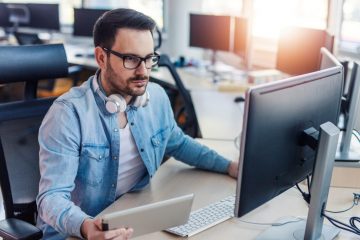 We have an exciting opportunity available for an experienced Software Developer working the day shift. We are currently offering a work-from-home arrangement but will transition this role to one of our Manila offices (Ortigas or Makati) once the situation has stabilized.
When you join Yempo, you'll receive the following benefits:
Highly competitive salary – paid weekly!
HMO enrollment on commencement
One HMO dependent added for each year of service
20 vacation days and 7 sick days per year
Annual performance bonus and incentives
Annual salary reviews and increases
Free cooked rice, snacks, and hot drinks
Company polo shirts
Fantastic, bright, and cheerful open-plan work environment
Prestigious clients and highly professional and friendly co-workers
Our Client
In this position, you will be assigned to our client located in Melbourne, Australia. They specialize in creating cloud-based service-oriented solutions which help businesses handle a large number of customer interactions in ways that are personal, effective, and secure.
Their customers range from banks, multinational companies, government departments, and utility companies to small medium-sized enterprises. They are a well-established, privately owned company and have more than 30 years' industrial experience.
Your Responsibilities
The role of the Software Developer is to support and develop the internal applications for our cloud contact center platform. You will be required to undertake various software activities, displaying considerable originality, independence, initiative, and judgment under limited direction. Among your responsibilities are to:
Provide technical guidance on web-based applications and technologies;
Research, test, build, and coordinate the implementation of web applications;
Ensure the consistency, coherency, and compliance of front-end software development with appropriate organizational standards;
Produce project schedules and plans;
Produce functional and fully documented programs;
Ensure that software development adheres to security best practices;
Ensure that software development considers redundancy and recoverability as part of its design;
Ensure that software is designed and developed with ongoing support in mind and includes human-readable logs, support for application monitoring, and maintain backward compatibility where possible;
Prepare deliverables that support the development and deployment of software, such as application guides and test plans;
Provide expert and innovative input to the development of system specifications and designs;
Write system requirements, design, and test specifications;
Assist with the verification and validation testing of the software to ensure that technical and customer requirements are met;
Identify products and technologies that will benefit the business processes either internally or in future development projects;
Provide assistance to the customer support team where required; and
Perform code analysis, code reviews, and software reliability analysis
Your Background
Minimum of 5 years of experience in software programming/development
Minimum of 2 years of experience working with common JavaScript frameworks and libraries (React, AngularJS, Vue, jQuery)
Proven experience in developing, testing, documenting, and releasing mission-critical software
Proven experience with GIT workflows and CI/CD development methodologies
Excellent command of English, both spoken and written with proven ability to communicate technical concepts in plain English
Excellent analytical skills with sound knowledge of the organization's business processes and objectives
High attention to detail and exceptional technical knowledge
Has the desire to learn and remain up-to-date with the latest web software technical developments and best practices
Someone who is disciplined, able to work independently and solve problems, enjoys working remotely, and is customer-focused and proactive
Good time-management skills and can manage multiple projects
Other Highly Regarded Qualifications
SIP or any other voice technologies
Security concepts (OWASP, PCI DSS)
Container deployment (Docker and Kubernetes)
Modern UX/UI design principles, including responsive design and progressive web apps