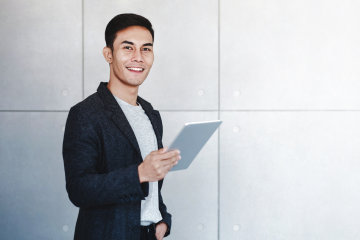 We have an exciting opportunity for an experienced UI/UX Designer (WCAG Standards) to work dayshifts. You must be WFH capable with a strong internet connection as we are home-based for the duration of the pandemic.  
When you join Yempo, you'll receive the following fantastic benefits:  
Highly competitive salary – paid weekly! 

 

We will provide HMO benefits for you and your dependents on the commencement

 

20 vacation days per year; 7 sick days 

 

Annual performance bonuses and incentives

 

Annual salary reviews and increases 

 

True hybrid working environment, do your best work wherever it suits you and your family, home or the office it's your choice.

 

Family-friendly work environment – Your family is #1. Ours too. We value everybody's freedom to support and prioritize their home life without apology.

 

Prestigious clients and highly professional and friendly co-workers based here and in Australia

 

Free cooked rice, snacks, and hot drinks 

 

Company polo shirts provided 

 
Our Client: 
In this position, the UI/UX Designer (WCAG Standards) will be assigned to our client located in Melbourne Australia.  They are one of Australia's leading providers of digital products and consulting services to organizations seeking to transform their ways of working with the Microsoft Office 365, and Microsoft Dynamics 365 platforms. 
Their expertise in combining these two class-leading pillars of business productivity and business operations toolsets into one unified capability is their point of difference. They deliver 'single pane of glass' digital workspace solutions that incorporate the crucial elements of access, insight, engagement, collaboration, and communication that enables, and empower everybody to participate in the modern workforce. 
Their goal as an employer is to create a workplace where career growth is in harmony with a sustainable work/life balance. They are creating opportunities for people to thrive in their careers by focusing on flexibility, culture, stability, and development for everybody in their team.  
Join their mission to help organizations discover new paths to success by providing technology solutions that unlock their potential. Help bring their vision to life by enabling purpose and possibility for everybody in the modern workforce.   
Your Responsibilities: 
The position of UI/UX Designer (WCAG Standards) is responsible for delivering solutions to a wide range of clients in diverse industry verticals. The role involves liaising between the client and a team of technical specialists to understand and deliver their services to meet the client's business goals. 
Reporting directly to the General Manager of Modern Workplace, you will be responsible for engaging with clients, understanding their needs, and translating them into concepts, personas, user journeys, wireframes, and prototypes.  
Your ability to understand the business context quickly and develop strong relationships will be key attributes for you to contribute to delivering intuitive user experiences for the products and solutions we build for our clients across our three main industry verticals of Health/Not For Profit, Finance/Professional Services and Retail/Wholesale.  
Customer Service 
Proactively resolve client queries or complaints; or report these to management and work together on developing strategies for improvement.

 
UI/UX Design:
Gathering and evaluating user requirements, in collaboration with product managers and engineers

 

Illustrating design ideas using storyboards, process flows, and sitemaps

 

Develop UI mock-ups and prototypes that clearly illustrate functionality

 

Conducting testing of prototypes with users and capturing insights and feedback

 

Defining design languages for applications

 

Designing graphic user interface elements, like menus, tabs, and controls

 

Identify and troubleshoot UX problems

 

Facilitate design workshops with clients

 

Adhere to style standards on fonts, colors and images

 

Adhere to WCAG guidelines for accessibility

 
Additional Duties:
Supporting sales activities including assisting with scoping and estimates for new deals, identifying new opportunities in projects under management and invoicing for existing projects/clients.

 

Carry out additional activities as directed from time to time by the Manager of this position.

 

Increase job knowledge by participating in company-wide learning initiatives and company meetings.
Essential skills and experience:  
At least 1 year of commercial experience as a UI/UX designer.

 

Tertiary qualifications in Design, Interaction Design, Human Centred Design, or similar

 

Certifications or equivalent experience to this standard:

 

User Experience Design

 

Visual Design

 

Design Thinking for Innovation

 

Experience with Figma, Adobe XD, or equivalent tools

 

Experience conducting testing of prototypes with users and capturing insights and feedback

 

Experience with Microsoft Fluent Design System and Fluent UI will be highly regarded

 

Solid understanding of inclusive design principles and experience designing to meet WCAG guidelines, including AA Compliance

 

Proficient in the use of design tools such as Adobe Illustrator and Photoshop

 

Proficient in the use of MS Office applications including Word, PowerPoint, Excel, Project, and Visio.

 

Ability to develop high-quality documentation.

 

Excellent stakeholder management skills.

 

Ability to work autonomously and as part of a team

 

Experience designing information architectures and arranging functionality and content into logical and intuitive structures

 

Excellent written and verbal communication

 

Experience with Agile software development and project delivery

 

An online portfolio showcasing the breadth of your skills